Versatile Large-Envelope X-ray and CT System
Nikon's versatile, large-envelope X-ray and CT systems can inspect items of diverse size and density, internally and externally, enabling them to perform virtually limitless tasks within industry, inspection bureaux and academia.
The VOXLS 40 C 450 large-envelope system combines metrology grade, granite-based manipulator construction with a large scanning volume, multi-source flexibility, dual detector functionality and an extensive range of CT acquisition modes, enabling it to excel in any inspection environment, from R&D labs to the shop floor.
The VOXLS 40 C 450 CT scanning system is perfect for:
R&D
Failure Analysis
First Article Inspection
Quality Control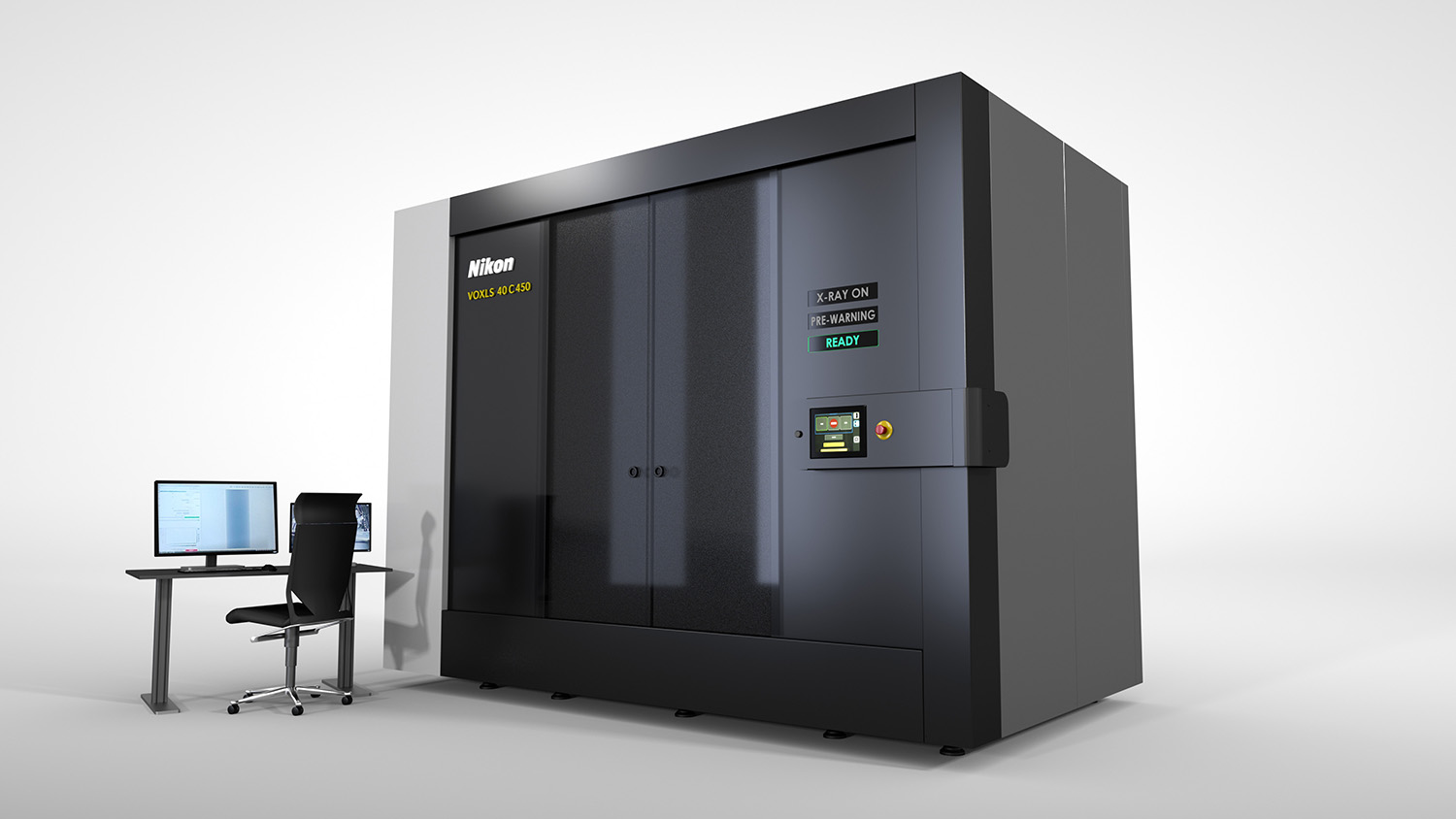 Unique glass safety door to eliminate shortcomings of a light curtain and provide full system interior visibility for sample positioning.
Integrated x-ray on warning lights.
User friendly touch screen controls.
Single piece cabinet for faster and easier transportation, on-site installation and future relocation, if desired.
Large, ergonomic desk to provide comfort for all operators. 
Fast bi-parting inner doors which open / close in just 6 seconds.
Extra-large inspection envelope.

Automation ready.

Dual microfocus X-ray sources, including the 225 kV and 450 kV sources using Nikon's innovative rotating technology.

Ergonomically designed metrology-grade manipulator.

Easy setup or relocation with intuitive Nikon Automation OPC UA Interface.

Increased measurement volume, resolution, and image quality.

Advanced 3D visualization and analysis.

Granite base and steel towers for accuracy and repeatability.

Industry-leading, flat panel detectors with horizontal shift and Nikon-exclusive CLDA (Curved Linear Diode Array).
 "Based on proven features and technologies, the 40 C 450 is an exceptionally versatile, microfocus solution that has been introduced in response to market trends and feedback from users over the last few years."

- Dr Andrew Mathers, IMBU X-ray and CT Product Manager.
The Technical Specifications:
Sources

Microfocus ranging from 180kV to 450kV

Detectors

Range of performance flat panel detectors

Nikon CLDA

Precision Granite Base Manipulator

7 Axes

Max. Scan Volume: 800mm (Ø) x 1415mm (H)

Max. FID: 1520mm

Max. Sample Mass: 275kg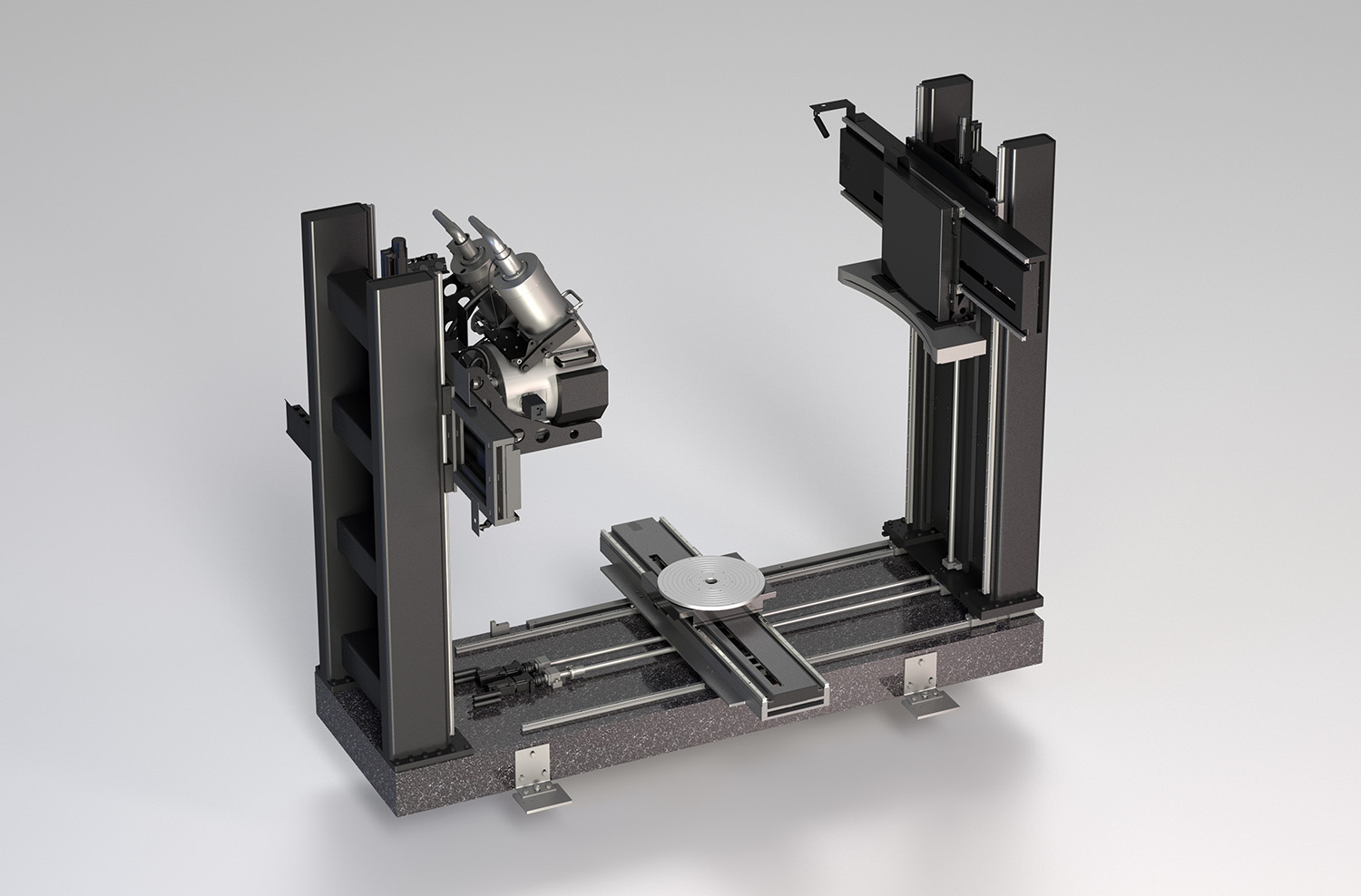 Maximum capacity of 275kg
Granite base for superior accuracy and repeatability
Dual Detector capable (DDA and CLDA)
Steel towers for enhanced rigidity and stability
Maximum capacity in a single-piece cabinet system
Contact us today to discuss how the VOXLS 40 C 450 can integrate into your business!
Industries Served
The aerospace industry requires an extremely high level of product reliability with zero tolerance for failure.