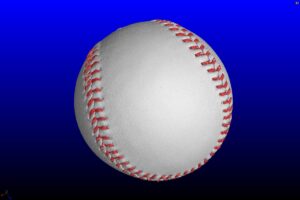 In honor of Major League Baseball's 2018 season…
At Avonix Imaging we thought it would be interesting to explore what's inside of a baseball by using a CT x-ray. Lucky us – we did find out – since our equipment can do it!
We had access to two MLB baseballs that were used at games from different years, and at different ballparks, so we decided to use our advanced 3D (CT) x-ray system to get a nondestructive inside view of both of them. This means that we could analyze them without any invasive procedures. The ball on the left was obtained from a 2009 Minnesota Twins game at the Hubert H. Humphrey Metrodome, while the other was a home run ball caught at a Red Sox game at Fenway Park in 2016. Here you can see the cross section images of the two baseballs…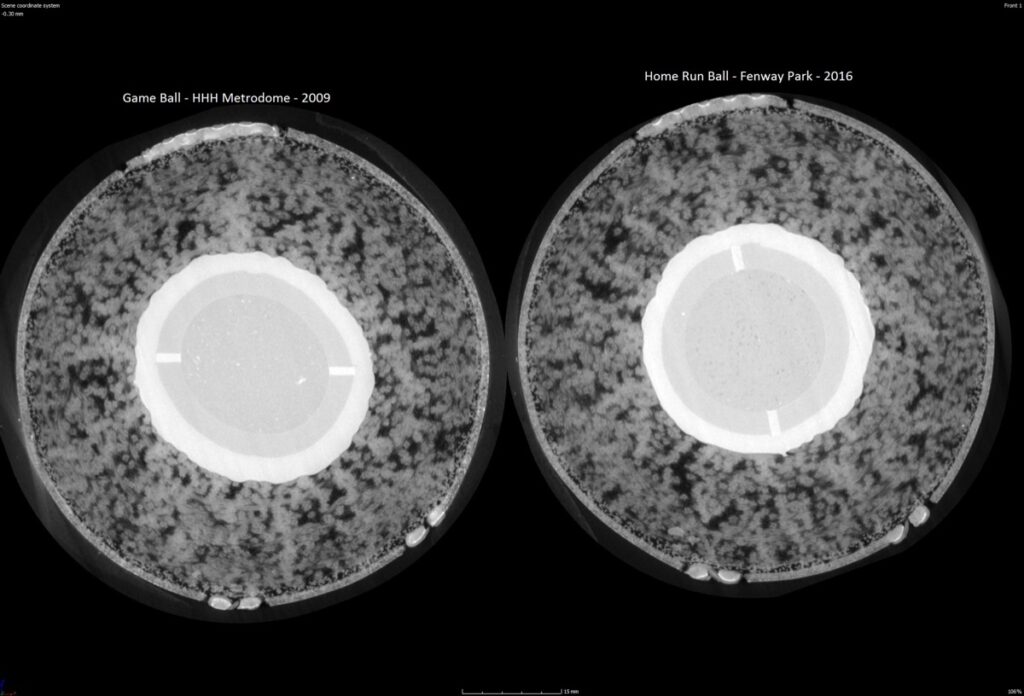 We used our Avonix Imaging XT H 225 ST Computed Tomography (CT) X-ray Inspection System to scan the balls side by side so that we could see if there happened to be any differences between the two baseballs.
Are they the same – or different?
Immediately after our scan we noticed only one significant difference between the two balls. The ball used at the 2009 Metrodome game has noticeably higher density particles scattered throughout the center of the ball. You can see the center of the ball caught at Fenway in 2016 (below, on the right) has a black "peppering" in the center which indicates it has less dense areas – or porosity – that is not present in the 2009 baseball.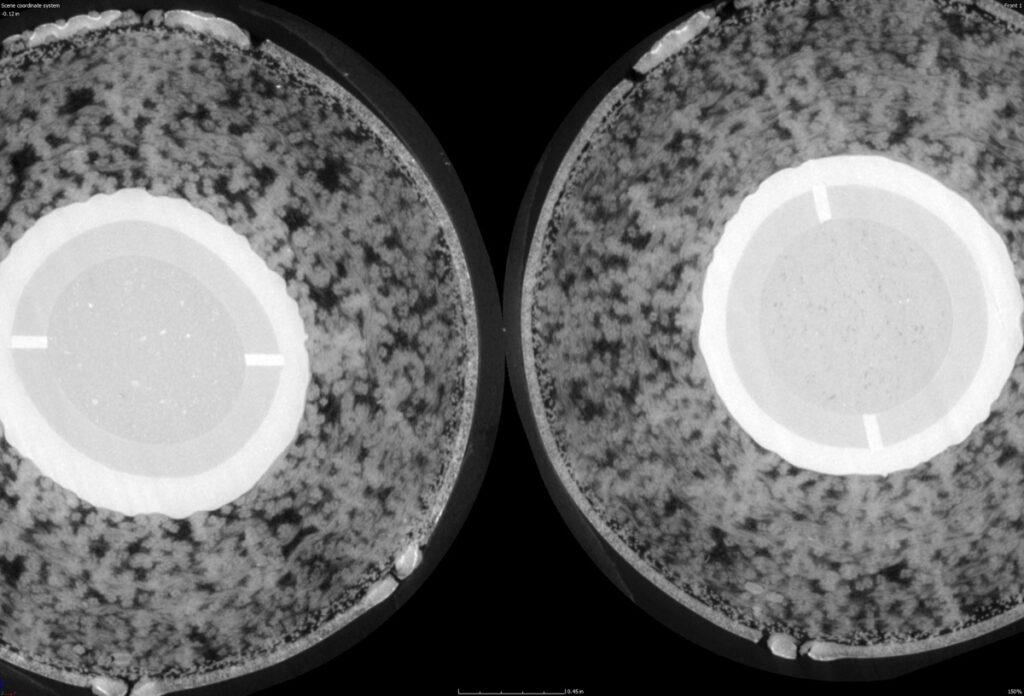 What does this mean – we're not sure – we simply wanted to see what the inside of a baseball looks like and it appears they are not exactly the same.
Since our scans also show the different properties that are used to create the baseballs, we went to "The Google" to see how a baseball is manufactured. Basically, in the center there is a "pill" which is smaller than a golf ball.  You can see in our image below what it looks like. Inside the pill there is a sphere of cork.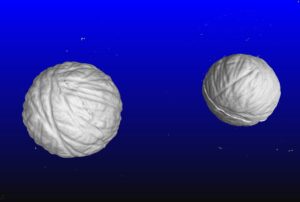 The pill is covered with a latex adhesive that helps hold the yarn circling the pill. Around 369 yards of yarn is wrapped tightly around the center pill and adhesive is added to the yarn to help hold the shape of the ball. In this image you can see the yarn…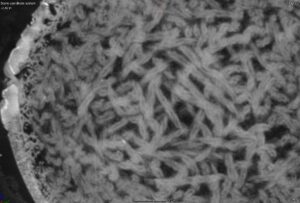 Then, two figure eight shaped pieces of leather are added to the outside layer and they are hand-sewn together. Exactly 108 stitches are found on each ball. The final stitch goes through the center and out the other side. Below you can see the leather on the outside and a close up of a stitch. You can also see the yarn layer and part of the pill with the cork interior.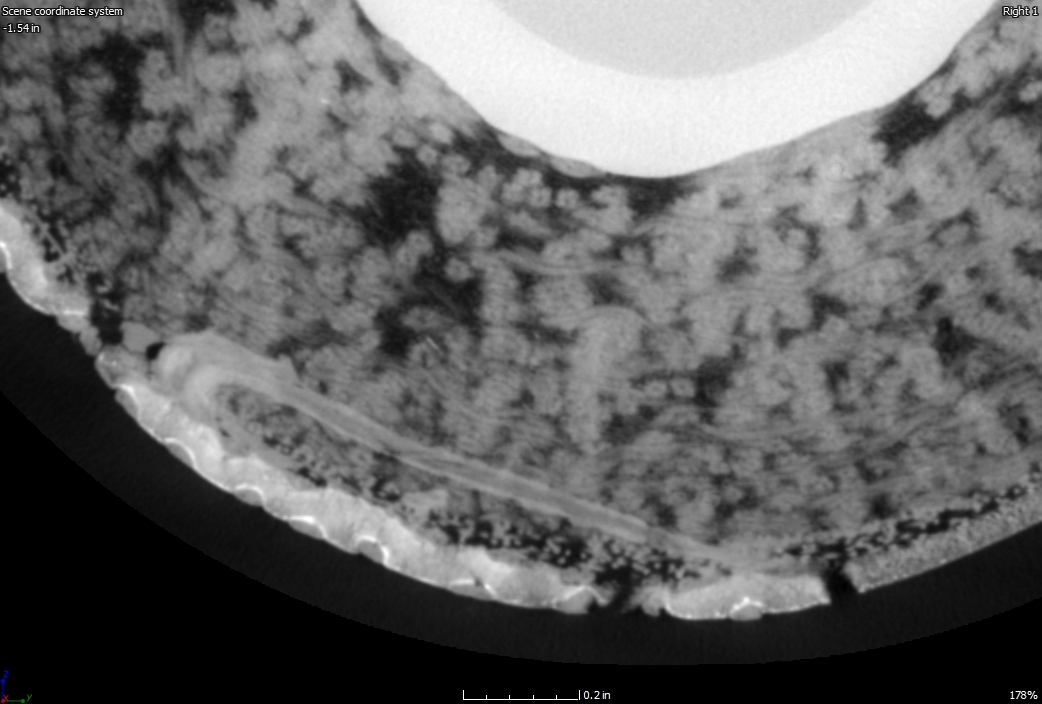 With CT imaging technology we are able to reveal information about a wide variety of objects and materials. Our customers use our scanning results to discover if something is internally wrong with an item and/or determine the integrity of an object.
We are curious…
At Avonix Imaging, sometimes we are simply curious about what's inside of something – like a baseball – so we take a look inside with our high-tech X-ray equipment and often share our findings with you!  We hoped you enjoyed this "inside-view" of something we are all so familiar with!
Happy 2018 MLB season – batter up!
To learn more about Avonix Imaging's computed tomography (CT) inspection services, our other X-ray capabilities, or to book a project – just give us a call at 763-447-4187 or email: info@avoniximaging.com.