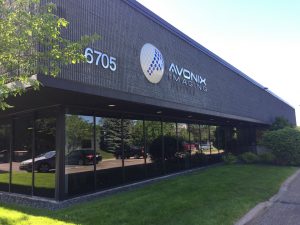 As we begin 2017, Avonix Imaging has much to celebrate from the past year. We'd like to share some highlights as we look at our year in review.
Growth
As Avonix Imaging continues to grow its reputation and name in the industrial x-ray and computed tomography (CT) industry, we've also grown our staff to accommodate our clients' needs. In 2016, our staff doubled, adding top-quality personnel to strengthen the areas of electrical engineering, equipment services, and contract inspection services. Our team is dedicated to exceeding expectations both in the quality of the imaging and the customer service provided, and continues to operate with the high standards and values of company founders Jeff Diehm and Brian Ruether.
Equipment
In 2016, we embarked on a project to develop and build our own walk-in x-ray enclosure with an Avonix large-format manipulator system that will allow us to inspect larger parts and higher density materials with a dual 225/450 kV Nikon micro-focus system configuration. This will be an immense benefit for our customers, whether they are looking to purchase a system of this caliber or utilize our contract inspection services.
New Location
The year's most visible change for Avonix Imaging was the move to our new location. We purchased a building and relocated from our original office in Plymouth, Minnesota, to a larger facility in Maple Grove, Minnesota, with an expanded applications and demo lab as well as a high-quality assembly area for our systems integration efforts. As a result, this allows us additional capabilities in all aspects of our business.
Looking Ahead
Even as we celebrate our 2016 successes, we're looking forward to what's in store for us in 2017 as we continue to grow and enhance our products and processes. April will mark our fifth anniversary, and we want to celebrate with you. Look for more details soon about an open house anniversary celebration.
We'd like to offer our sincere thanks to our colleagues, our partners, and, most of all, our customers. You've been instrumental in the success of Avonix Imaging and we appreciate your support. Here's to another great year at Avonix Imaging.