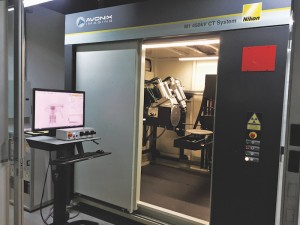 A Mexican university has a brand-new CT scanning system thanks to Nikon Metrology and Avonix Imaging. This May, Avonix ventured south of the border to build and install a Nikon Metrology dual-source 225kV and 450kV M1 CT X-ray Inspection System at Benemérita Universidad Autónoma de Puebla (BUAP).
The M1 Configurable CT X-Ray Inspection System provides the power needed to penetrate through high-density parts and generate scatter-free CT volumes with micron accuracy. The M1 is available in a walk-in room or a self-contained standalone cabinet and takes configurable and customizable design to the next level.
Located in Puebla, BUAP is excited to utilize the cutting-edge technology for chemical, automotive and food industries in the region and conduct research in biochemistry, forensics and archeology. While the institution has past experience with x-ray technology, the university is new to the world of x-ray scanning. BUAP is planning to use the machine to partner with nearby Volkswagen and Audi plants and develop national testing standards for Mexico.
Here at Avonix, we are proud to partner with one of Mexico's oldest and most prestigious public universities. We hope the M1 CT system will bring BUAP a new world of discoveries and opportunities!